'Boy Band' Goes Live: Here's What You Need To Know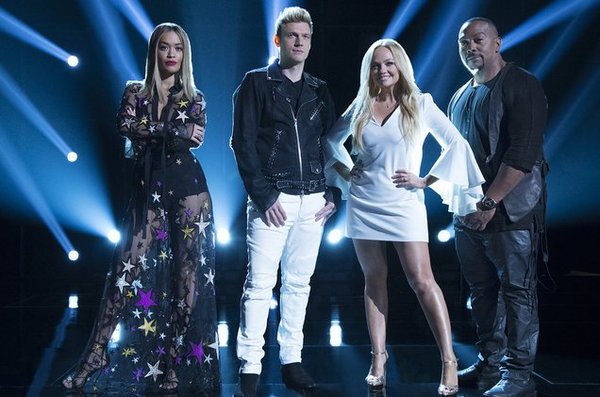 After a weekend of career highs with the Backstreet Boys in Boston and Quebec, Nick is gearing up for week 4 of Boy Band and the first LIVE show of the season. How does this change things? Keep reading.
Architects remain the same – but with slightly different roles. In the first three weeks of the competition, Nick, Emma and Timbaland have split the 18 competitors into groups and made the sole decision in who goes home. This week (and in weeks following), the architects will serve as mentors to guide the guys in the right direction and, after seeing each group's performance, will select two singers to be in the bottom two.
Viewers will have the final say in who stays and who goes home. The bottom two will go head to head to battle it out for who will move on to the next round and ultimately, make it to the top 5 that will form the next great boyband. As of right now, viewers will have 3 minutes after the performances to vote for who should stay – online and via SMS texting from mobile devices. More details will be posted as soon as they become available. Keep your eyes on this post for updates!
The Boy Band boys will be shuffled. For the past three weeks, you've watched Reverb, Six Track and Uplift… but they are no more! In order to see who has the best chemistry together and who has what it takes to be a successful boybander, the remaining 15 will be shuffled around by the architects in following weeks, which will all have a different theme. The groups for Week 4 are as follows:
Topline (Performing "Despacito"): Michael Conor, Chance Perez, Drew Ramos, Mikey Jimenez, and Sergio Calderon
Element (Performing "Don't Let Me Down"): Miles Wesley, J-Hype, Devin Hayes, Jaden Gray, and Andrew Bloom
Tre5ble (Performing "Rolling In The Deep"): Brady Tutton, Andrew Butcher, Camry Jackson, Marcus Pendleton, and Dorian Tyler
Have your favorites already? If you're positive that you know the top five guys that would make the perfect boyband and that America will agree, let's see how well you can do! Nick Carter FC members are invited to enter their predictions for the top 5 finalists and ultimately, the boyband that will sign the record deal at the end of the series. If your prediction is right, you could win a Nick prize pack! If more than one member is correct, the winner will be chosen at random out of the correct predictors (but everyone will get bragging rights for being right all along). You can leave your predictions here before the show goes live on Thursday night.
Get your voting fingers ready – Boy Band goes live on Thursday at 8/7c! Need to catch up? Watch all of the past performances, meet the cast and watch their journey up until this point here.