Boy Band: New Week, New Groups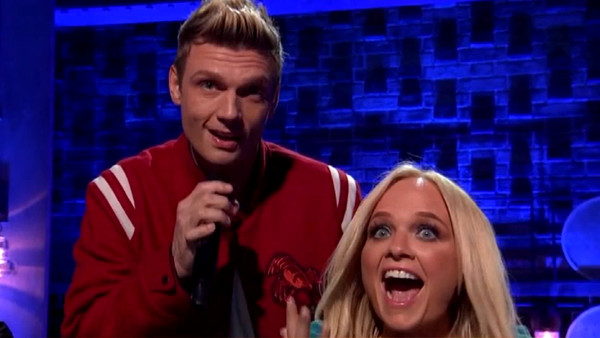 The new groups have been decided and they have 30 seconds to come up with their band name. GO! #BoyBand pic.twitter.com/eatxkcBAb9

— Boy Band (@BoyBandABC) July 18, 2017
We're still reeling from the epic live episode (and celeb-filled opening) of Boy Band last week and now we're just 2 days away from the next!
While fan-favorite Miles Wesley might have been eliminated last week, there are still 14 boys vying for the final five spots in what will be the next great boyband and they keep getting better and better each week. While last week tackled recent top 40 hits, this week's "Blast From The Past" theme with have the boys performing songs from Bon Jovi, Cindy Lauper, and Frankie Valli, with an opening group performance of Billy Joel's "Uptown Girl". We can't wait to see them take on the classics and who will make it a step further toward making their dreams come true.
With each new week, there are new groups so that the architects (and America) can get a feel for who works well together, who is better suited as a solo artist, and who is a real team player. As Nick has made it known, the most important parts of being in a boyband are chemistry, communication, and working together. Changing it up is the only way to get it right!
Your new groups this week are:
Maxed (Performing "Can't Take My Eyes Off Of You"): Cam Jackson, Drew Ramos, Devin Hayes, J-Hype, and Sergio Calderon
Timeless (Performing "Livin' On A Prayer"): Andrew Butcher, Andrew Bloom, Marcus Pendleton, Chance Perez, and Michael Conor
Next Up (Performing "True Colors"): Jaden Gray, Brady Tutton, Dorian Tyler, and Mikey Jimenez
Which group do you think will be safe from elimination?
As we saw last week, the architects will name the bottom two contestants and you will have 3 minutes (a commercial break) to vote online and by text for who you want to save. It's up to you, America – but you have to tune in and vote!
Refresh your memory and gear up for the next show on Thursday by watching last week's performances below. Too bad we can't keep them all!
[Also check out Nick's interview with The Insider after last week's show on why this show is important and boyband rivalry]