The Latest on Boy Band From Nick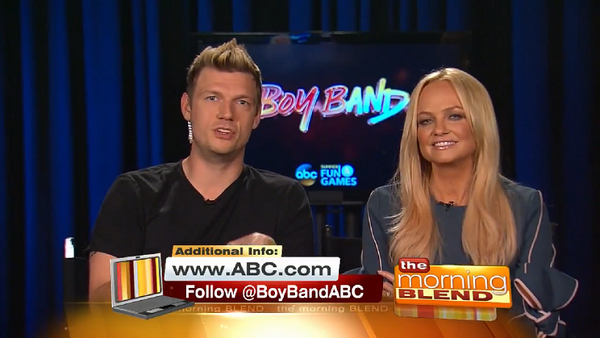 Nick along with his co-Boy Band Architect Emma Bunton chat about Boy Band in new interviews!
During their interview with Good Day Utah Nick and Emma spoke about the sbow, what they're looking for in the contestants and more. Visit Good4Utah.com to watch!
Nick took the time to also chat with Radio Disney where he answered some fan questions about the new Backstreet Boys album, having the boy band who wins Boy Band tour with BSB, who his favorite artist is right now, what's his favorite BSB video of all time, what showbiz adivce he'd give his younger self and more. Visit Facebook.com/RadioDisney to watch Nick's interview!
In a interview with The Morning Blend on KTNV Las Vegas Nick and Emma talk about what will happen on this week's show. Nick also spoke a bit with Richard Marx about auditioning for BSB with one of his songs and asks him to write for BSB.
Nick and Emma also spoke with ABC 7 NY about the show, why they wanted to be a part of the show, whether they would perform on the shows finale, and who their favorites are. Nick talks about a bit about being in Vegas and doing Boy Band along with recording for the new Backstreet Boys album. Head over to ABC7NY.com to watch!
ABC 8 in Richmond also spoke with Nick and Emma about Boy Band. They talk about how the competition is on the show, what it's like to step in the roles as mentors, if they had to go through what the contestants are going through, would they have made it in their groups, how much has the music industry changed and more. Visit WRIC.com for the interview.
Good Morning Washington chat with Nick and Emma on Boy Band, the rumors about the BSB/Spice Girls tour and much more. You can watch the interview at WJLA.com.