Nick Offers Words Of Encouragement To The 'Boy Band' Final Nine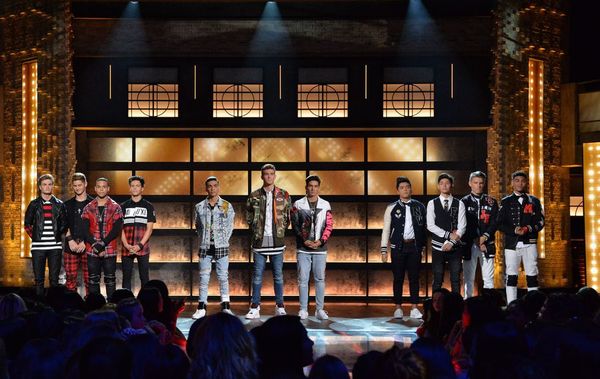 The weeks have passed by quickly and the cast of Boy Band is getting closer and closer to a final five. Last night's double elimination narrowed the group of boys competing for a final spot from 11 to 9 and emotions ran high among the architects as they gave each of the singers the constructive criticism they needed to hear to further themselves in the competition.
Ultimately, Andrew Bloom and Jay Gilbert, the youngest competitor known as J-Hype, were eliminated and Devin Hayes, who has long been a front runner, was saved with America's vote. While they may no long be competing for a spot in a boyband, it's no secret that these boys (and all who have been eliminated) have enough talent to definitely have a future in the music industry in some capacity.
Nick Carter also shares this sentiment. Each of the past 7 weeks has been tough on the architects as the young artists that they fought for and chose to be in the top 15 positions are being sent home one by one. After each performance, Nick, along with Timbaland and Emma Bunton, have given each singer the best advice that they can give, coming from years of experience and wanting each of them to be successful, in or out of a boyband. The decisions have not come easy to place any of them in the bottom each week and you can see the very real emotions on their faces as America's votes send someone (or two someones) home.
This week, Nick went as far to tweet a young fan after the show, assuring her and reiterating what he had previously stated during the show, that the eliminated J-Hype did a "great job" and that he has plenty of time to grow. We hope to see him using those beatbox skills in a large capacity soon!
Don't worry. #jhype did a great job and remember he's only 14 so he has room to grow and learn #boybandabc #BoyBand https://t.co/5u1ZvVoR09

— Nick Carter (@nickcarter) August 4, 2017
Friday morning, with the Boy Band final nine obviously still on his mind, Nick tweeted each of the boys (Marcus, Brady, Chance, Drew, Michael, Mikey, Devin, Sergio and Jaden) words of encouragement and positivity as they enter the last week before semifinals. Read the tweets below.
@bradytut it's time for you to break out of the mold.Experiment with the songs,give me some EDGE and show me u can be a pro.!! @BoyBandABC

— Nick Carter (@nickcarter) August 4, 2017
America!! Let's all take another look at @K_marzzz_ on @BoyBandABC #BoyBand #boybandabc #dontsleeponhim #star https://t.co/INBK0hVJ2J

— Nick Carter (@nickcarter) August 4, 2017
You are making us ALL proud. Never forget the reason you are here after 7 weeks is because YOU earned it!! #Boyband @BoyBandABC #latinfuego https://t.co/QDPxBFhwxT

— Nick Carter (@nickcarter) August 4, 2017
@michael_bmoc You're my X player on @boyband I need you to STAND OUT down the stretch.#riseup and be the star you were born to be! #Boyband

— Nick Carter (@nickcarter) August 4, 2017
@dr3wster the sky is the limit for you. Always remember where it started.In those subways with a guitar under the beautiful city of #NewYork

— Nick Carter (@nickcarter) August 4, 2017
@realMKY be proud of your resilience. Now it's time for you to build on that feeling and PERFORM WITH CONFIDENCE! #fighter @BoyBandABC

— Nick Carter (@nickcarter) August 4, 2017
@RealJadenGray your voice is out of this world #incredible.what I love is how committed you are to excellence.never stop being YOU! #Boyband

— Nick Carter (@nickcarter) August 4, 2017
Yeah...WE GOT talent on THIS show. Congratulations @DevinHayes and @ItsChancePerez for making it this far. BUT don't get too comfy yet... https://t.co/yOzi4xv5Fb

— Nick Carter (@nickcarter) August 4, 2017
After a rigorous schedule of learning new songs and choreography with different members of different groups each week, we're sure that the Boy Band members appreciated the kind words from a man who is no stranger to a busy schedule himself.
As the competition rolls on, we can't wait to see what the future holds for all of these talented young men. As for the final five? Well, we're hoping to see them open for the Backstreet Boys, of course. They already have a pretty solid fan in Nick Carter.