The Backstreet Boys Honor Florida Georgia Line at 'CMT Artists Of The Year'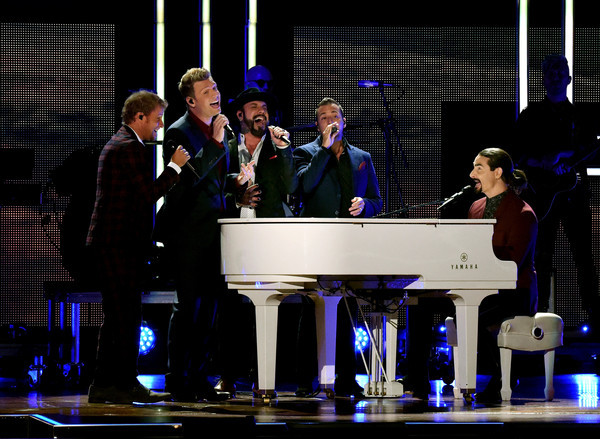 After taking a short break this past weekend to hang out with his family and visit a Vegas medical center, Nick went back to work with the Backstreet Boys last night for CMT Artists Of The Year.
The Boys were invited to the event in Nashville last night to honor Florida Georgia Line, who were among the six country acts chosen as 2017's CMT Artists of The Year. After speaking a few words about teaming up with the duo and the success that they've achieved in the past year, Nick along with Kevin, Brian, AJ, and Howie took on "H.O.L.Y", one of FGL's biggest hits. The performance earned them a standing ovation from an audience filled with country artists and music industry elites as well as a nod from Rolling Stone, who proclaimed that the Backstreet Boys "took everyone to church".
Oh, and did we mention that the Boys also spent time in Nashville recording for their 10th studio album, due for release next year?
For now, you can find Nick with the rest of the group halfway around the world in Singapore before returning to work next weekend at QTOPIA in Atlanta and, for Nick, Walker Stalker Con. All photo op and panel times for WSC have been posted and Nick is so excited to see each and every one of you!
Yes I will!! I'll be there on Friday, Saturday and Sunday. Soon to be HAPPY HALLOWEEN my favorite holiday!! Come join me and the zombies.

— Nick Carter (@nickcarter) October 18, 2017
If you missed the "H.O.L.Y" performance, check it out below, as well as an interview from last night's red carpet!