Nick Carter Spends A Busy Weekend in Atlanta With A Few Hundred Fans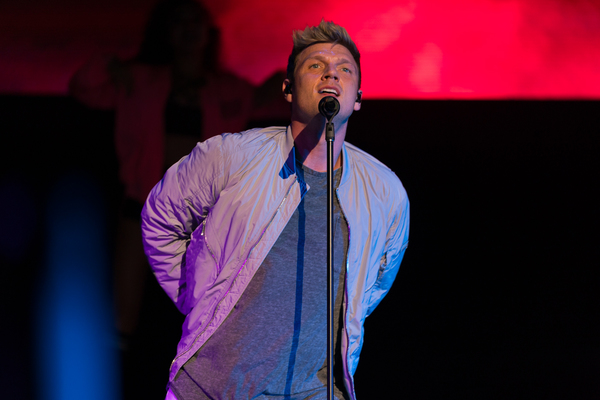 Nick Carter hasn't performed a show or made an appearance in Atlanta, Georgia since the 2014 Nick and Knight tour, but that all changed this weekend.
Arriving Friday afternoon, Nick was met with fans waiting to meet him, take selfies, get autographs, and have photos made at Walker Stalker Con, one of the largest zombie conventions in the world. Nick has been making appearances at such conventions since 2016 with the release of his zombie western, Dead 7. This weekend has definitely been the biggest turn out so far, with fans coming from as far as Italy, Belgium, and Germany for facetime with the Backstreet Boy.
Speaking of Backstreet Boys, after his Friday con appearance, Nick traveled a few minutes north to join the rest of the group for their headlining performance at Q100's QTOPIA, alongside acts such as Flo Rida and Fergie. Crowds waited anxiously for the Boys to take the stage and were not disappointed when Nick, along with Kevin, Brian, Howie and AJ, brought a piece of their hit Vegas show down South. You can find photos from the performance and other QTOPIA media here.
If that wasn't enough, Carter headed back to Walker Stalker on Saturday to spend all day with the few hundred fans who, at one point, were waiting an hour in line just for a few moments with him. Those few moments, though, were well spent as Nick took time with each fan to learn names, use snapchat filters for selfies, and record videos for a few lucky fans who weren't there (by request of their friends who were). This is all in between doing a professional photo op with attendees (which sold out early) and doing a live interview on the WSC stage, where he discuss his Halloween plans plus a future movie idea, which you can listen to here.
If you were there this weekend, we want to hear your stories and see your photos! Comment photo links in the comments, tell your story in a blog, or chat with other fans who were there in the forum. We know you have them.
This all comes on a weekend that is significant in Nick Carter history as today marks the 15th anniversary of the release of his first solo record, Now Or Never. Can you believe it? Discuss your favorite tracks and NoN memories on the anniversary blog in the FC.
Next up? Vegas, of course, and Christmas shows in Indianapolis, Toronto, Connecticut, New York City, Chicago. Be there.
(Photo: Q100 Atlanta)