LA To Nashville: Catch Up On Nick's Most Notable + Quotable Moments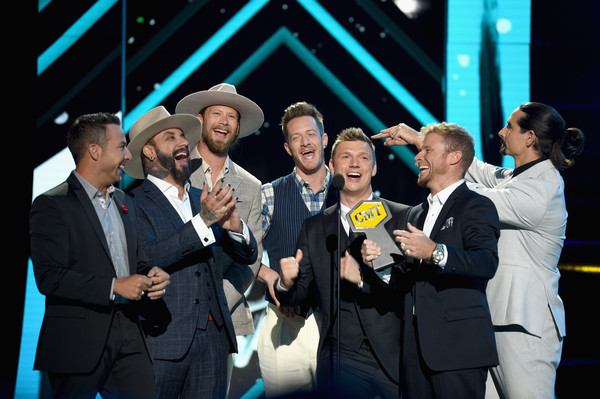 It's been a week since the Backstreet Boys performed on the Wango Tango stage and they haven't stopped since. After taking a moment to celebrate his wife Lauren's birthday in LA, Nick set off to Nashville with the Boys to perform at the CMT Awards, win a CMT Award with Florida Georgia Line for Performance Of The Year, celebrate their first #1 hit on country music radio with "God, Your Mama, And Me", hit the CMA Fest stage at Nissan Stadium on Sunday night and get some recording done in between.
While it may seem like a lot to accomplish in one week, it's the norm for Nick Carter, who is always working on something. Another thing that stays the norm? How grateful he is for the Backstreet Boys' success, his family, and of course, the fans.
Check out some of the most notable interviews and quotable moments from the last week!
On Fans: "We have the best fans in the world. They've been with us through thick and thin, highs and lows..."
On Advice for Gwen Stefani on her new Vegas residency: "Just have fun. It's the biggest stage in the world right now and we're glad she's a part of the family!"
On his favorite song on the radio right now: Niall Horan's "On The Loose"
On singing to his son Odin: "I turn the lights off and put him on my shoulder and ask if he wants me to sing to him and he says yes."
On the Backstreet Boys' success: "It's a testament to the music. It's been crossing generations and that's all we could have ever wanted."
On the success of "Don't Go Breaking My Heart", the Backstreet Boys' new single: "To me, it feels like starting over. We're so humbled and grateful and honored to be in this position after 25 years..."
Did you know that Nick also does yoga? Now you do!
On winning a CMT Award: "I wanna thank God, your mamas, and these boys right here!" (Watch the acceptance and BSB performance below)
What part of the past week has been your favorite part? Chat about it in the comments below!