To Chile and Back(street): BSB Wins Over Audience At Sold Out Performance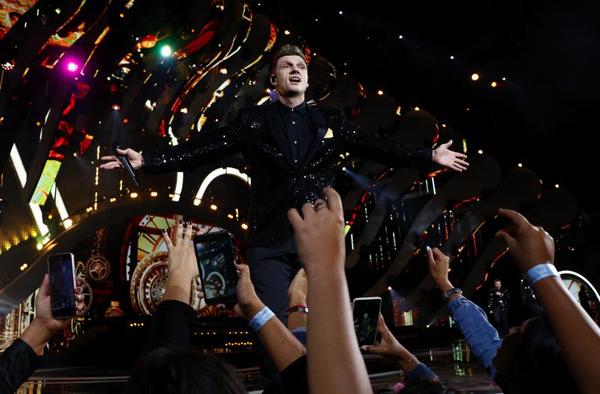 A few months ago, it was announced that the Backstreet Boys would return to Vina Del Mar International Song Festival in Chile for the first time since 1998. The festival is the oldest and largest in Latin America, with 15,000 in attendance and an estimated 250 million tuning in from home.
Almost immediately after going on sale, the Boys performance night was sold out and the same thing happened when the VIP meet and greet went on sale months after. It was safe to say that Chile still has a lot of love for the Orlando boys!
A day previous to their Vina performance, Nick, Howie, and AJ arrived and enjoyed the morning hanging out and taking in the sights before enjoying a "sunset dinner" together. It's safe to say that the Backstreet Boys have a lot of love for Chile as well.
In fact, Nick revealed during a press conference ahead of their festival appearance that the Boys were looking to work South America into their DNA World Tour next year, as well as a few other projects the Boys hope to be in the future. Watch the entire press conference here.
During their performance that night, fans and viewers once again proved their love for the fivesome by awarding them with the Gaviota de Plata and the Gaviota de Oro. These awards are given to artists that the audience deems their performance worthy of being the most entertaining during a certain night of the festival. The Gaviota de Oro is traditionally given to a Latin artist - the Backstreet Boys are one of few American artists to receive it! Watch the award winning performance here.
Before heading home to rejoin his family, Nick took to Twitter to spend some (virtual) time with fans! Check out his live feeds here and here and follow him on Twitter to check out all of his sweet tweets to fans.
Were you able to catch them at the festival or watch from home / online? Be sure to blog about it in the FC! We'd love to hear about your experience.