DNA, VIPs, and After Parties: The Boys Are Back...On The Road!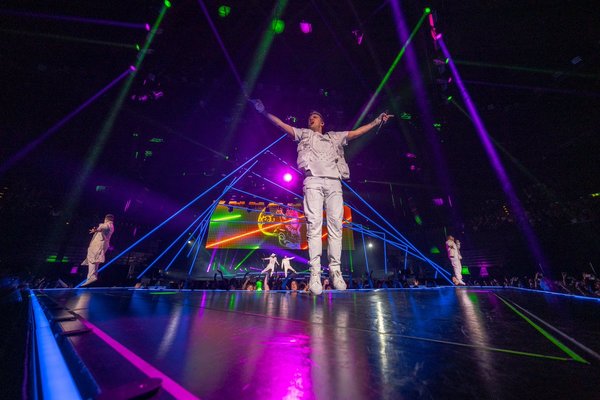 After a few weeks off from their epic Euro run and spending time with their families, the Boys are back in town…
….If your town happens to be one of 40+ cities they're hitting on the DNA World Tour in North America. The Backstreet Boys biggest arena tour since Never Gone is definitely one that you do not want to miss out on.
Nick joined the band back onstage Friday night to serenade a sold out crowd of 23,000+ (!!!) at Capital One Arena in Washington D.C. Fans came from all over to get their first glimpse of the tour in the States and many have other shows already lined up because it seems that one just isn't enough.
"I haven't cried at Backstreet Boys show in a long time. But hearing the entire arena sing, after 26 years of having these guys entrenched in my heart & soul, I lost it," one fan wrote on Twitter after the show, with many others echoing her sentiment. As Entertainment Focus proclaimed after the Backstreet Boys performance in London last month, the group has not "lost their magic that helped them conquer the world".
If you're looking to get even more up close and personal with Nick, Howie, AJ, Brian, and Kevin this tour, VIP Meet And Greet upgrades are available in select cities in limited quantities. Find a list of cities here and get yours before they're gone!
Nick will also be joining Howie D. and AJ McLean at a few afterparties in the next few days. Grab general admission or VIP tickets for Montreal and Toronto because there ain't no party like a Backstreet Party 'cause...well, you know the rest. Stay tuned to social media and website posts for any other upcoming event announcements. Please remember -- if it is not tweeted or posted from an official channel, it is unlikely to be official event with the BSB in attendance.
As always, don't forget to post your DNA reviews in the blog section - we want to hear all about your experiences. Oh, and don't forget to
make sure you're following Nick on instagram
for all of the best photos from the road and updates on his growing family!