Backstreet Wraps 2019 'DNA' Tour With A Special Visit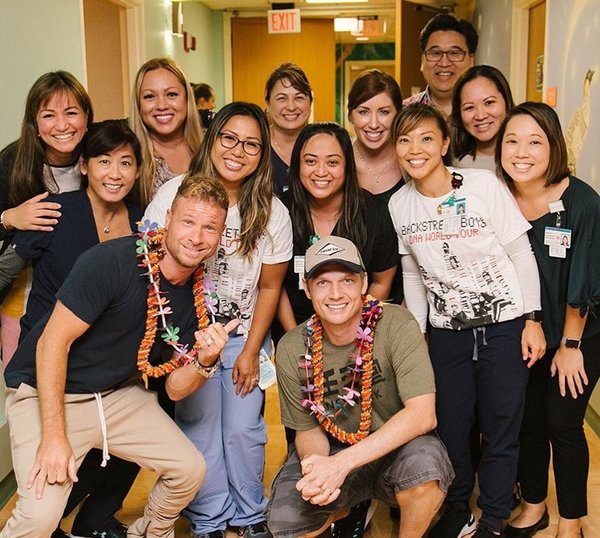 In just over a month, Nick Carter has welcomed a new addition to his family, played sold out concerts in Southeast Asia, Japan, and still made it home in time to catch some professional bull riding with his son and a Bucs game with his little girl!
But this is nothing new for one of the busiest men in the entertainment business. With a #1 album, a sold out tour in multiple countries, a #1 song on the EDM charts with Steve Aoki, a Grammy nomination, and so much more in just this year alone, 2019 has been nothing but great to Nick and the rest of the Backstreet Boys.
The proof of their DNA tour's success so far lies not only within the arenas packed with fans singing along, but within the reviews as well.
"...BSB can come to Singapore as often as they like and nothing will dampen the ardour and undying love." - CNA Lifestyle
"The group's longevity has a lot to do with the five members' hard work, as well as their brotherly bond that helped them weather storms that threatened to tear them apart. But more importantly, they owe it to their loyal fans, who stood by them through it all." - Phillipine Daily Inquirer
It isn't just the different fans in locations around the world with love for the Backstreet Boys - the Boys love the cities just as much. In Manila, Nick proclaimed his love for the city, calling it "so cool" before adding his affinity for their cuisine. "I think I had my favorite food in the entire world right here. I miss chicken adobo and bangus. And pork adobo." (PhilStar Global)
Perhaps one of the most notable moments from the end of the 2019 DNA tour run happened in Honolulu, when Nick, along with Brian Littrell, made a surprise visit to patients at Kapiolani Medical Center. The visit was especially special for one Backstreet superfan named Jordan, who was celebrating her last round of chemo. Jordan used the Boys' music as motivation in her recovery, even performing their songs with friends. Following her last treatment, Nick and Brian presented her with tickets to their sold out show along with a few other things.
"We get so much out of this. We have families – we all have children – and we've been doing this for 26 years, so just to be able to give back, and to give back and uplift spirits through music, that's really why we're here," Nick told KHON2, adding in a later tweet that he was in awe of Jordan's strength and honored to have met her. You can watch more from their visit below!
The Backstreet Boys have since headed home for a well deserved break and to spend holidays with family, but rest assured, they will be back full steam ahead in 2020. To see their upcoming tour dates, click here.
As always, check back here for more updates on what Nick is up to in his downtime and more!